Willow Tree is a state-wide prevention, wellness & treatment agency helping to Grow Pro-Active — Kind — Drug-Free Youngsters through programs like "100 VOICES Speak Up"
. For more information on Anti-Bullying, click here.
Anti-Bullying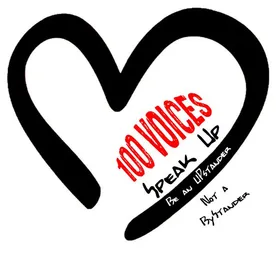 The majority of students involved in Harassment, Intimidation or Bullying (HIB) incidents are as bystanders. Through 100 VOICES Speak Up, The Willow Tree Center empowers middle and high school youth to serve, alternatively, as "UPstanders" to improve the school climate.
STEP 1: Schedule Dates
Call Sue Nobleman at Willow Tree Counseling Associates at 201-602-7783 to schedule 4 key dates to:
Discuss your needs and contract for services (1 to 2 hours);
Train 10 to 20 youth staff (1 or 2 full days);
Hold 100 VOICES (1 full day); and
Follow Up with youth staff and those participating in 100 VOICES to determine impact and plan next steps (2 to 3 hours).
STEP 2: Optional Survey
We encourage you to use the Olweus Survey to determine your specific issues regarding HIB and to program accordingly. Click here to download the Olweus survey in PDF format.
STEP 3: Train Youth Staff
Rationale: As adults, we can set standards for behavior but we know that youth are more likely to listen to their peers than adults. We need to capitalize on this information to positively impact and reduce HIB behavior. It is for this reason that we train and utilize 10 to 20 representative youth to serve as Willow Tree Teen Leaders or WTTLs (Youth Staff or Youth Leaders) for the day-long Willow Tree conference (100 VOICES) for 100 youth and 25 adults — and beyond. To effect school wide change, the WTTLs may also be trained for a second day to (1) co-lead weekly HIB discussion groups (Circle Time) with their teachers; (2) implement a week-long "Be the Change Challenge Event" for their school; and (3) plan a cross-age teaching workshop for younger students.
STEP 4: Select 100 Representative Student Participants
Rationale for 100: The reason Willow Tree has decided to work with groups of 100 youth per 100 VOICES workshop is that it is a significant population, large enough to effect school wide change yet small enough to create an intimate sense of community.
Rationale re: Representation: For charge to truly occur, you must have ALL of your school groups (cliques) involved in the process. If you only involve your traditional high achieving youth, the rest of the student body that does not define themselves as such will not see this as a program for them. They will not "buy in" and that will sabotage your attempt at positive climate change.
STEP 5: Implement 100 VOICES Speak Up
The agenda for 100 VOICES has been very carefully planned, but there is room for customizing it to accommodate local needs. 100 VOICES may be held on a school day or on a Saturday from 9am to 3pm. To keep costs low, the program is generally held in your school building or at a local community center and food is either donated by local restaurants or students are asked to brown bag a lunch. The facilitators for 100 VOICES are Sue Nobleman and Sandy Queen. Each possesses over 30 years experience leading workshops for youth and adults.
STEP 6: Optional Follow Up
If you elected to use the Olweus survey to determine your specific issues regarding HIB, we will hold a series of follow up sessions to discuss the results with your school's Safety Teams, Faculty, Parents, Youth Staff and the participants from 100 VOICES. Based on the findings, we will work with your groups to brainstorm and implement solutions.
Following, you may elect to implement the full Olweus Bullying Prevention Program. Should you wish to consider this, we will begin again at the planning stage — discussing your needs and contracting for further services.