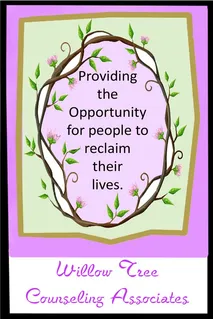 Our Mission Statement

Through a personalized approach, Willow Tree Counseling Associates empower, counsel & educate individuals and families to build emotionally healthy, alcohol, drug-safe, caring individuals, families, schools and communities.
Our Values
At Willow Tree Counseling, we value and are committed to being on T.R.A.C.K. — meaning that we are:
Trustworthy,
Resilient,
Authentic,
Creative, and
Kind
Our Beliefs
At Willow Tree Counseling, we recognize that our world's process addictions, substance use & violence problems are complex & complicated issues. But for many, they stem largely from people feeling like they:
Are not wanted — that they don't fit in or belong.
Have little personal power or value.
Don't count — are not respected.
Are not loved or cared about.
This can be very painful.
Without healthy coping skills, many cope with the pain by drinking, drugging, raging, shopping and/or compulsively over-eating. To deal with this, we've developed programs to help youth, adults and families to be more resilient and to triumph over adversity — turning negatives into positives.
Our Results
Through Willow Tree Programs, youth, adults, couples & families:
Develop healthier root systems — physically, emotionally, socially, intellectually, economically and spiritually — to become more resilient.
Become more flexible and less rigid to cope better with life on life's terms — or as we say: "Blessed are the flexible for they shall not get bent out of shape!"
Practice self-care and become comfortable asking for help when needed.
Prevent, intervene or recover from substance use disorders, process addictions & violence issues.
Improve communication & flourishing skills.
Make better choices.
Impact many others.
Nature or Nurture?

For some, alcoholism, drug addiction and mental illnesses have a strong root in genetic bio-chemistry. Those with addiction or mental illnesses in their families are at greater risk of developing an addiction or mental illness themselves. This is due in part to nature and in part nurture — and science is still searching for a meaningful ratio to better help us prevent and intervene to reduce the harms related to addictions.